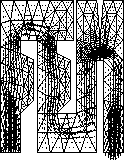 Finite Element Circus and Rodeo Louisiana State University - Spring 2008 Time and Location A joint meeting of the Finite Element Circus and Finite Element Rodeo will be held at the Louisiana State University on March 7-8, 2008.
The Friday session will take place from 1:30 PM to 6:00 PM and the Saturday session will start at 8:30 AM. All talks will be held in the Life Sciences Building Annex, Auditorium, Room A101. The location is indicated on this campus map.
The closest airport is the Baton Rouge Metropolitan Airport. American Airlines-American Eagle, Continental Airlines, Delta Airlines-Delta Connections, Frontier Airlines and Northwest Airlines provide service to Baton Rouge. Another option for flights is the Louis Armstrong New Orleans International Airport, which is approximately 75 miles from the LSU campus.
Parking
The inner part of campus has restricted access on weekdays. Parking is available at the Visitor Center, Parker Colliseum or commuter lots off Nicholson Extension. A parking permit is required to park in these lots. Please check the box on the registration form to request a free parking permit. (You can pick up the permit at the Visitor Center located at the intersection of Highland Road and Dalrymple Drive upon arrival.)
Registration
If you plan to attend the Finite Element Circus and Rodeo, please register online . A list of attendees can be found here .
Accomodations
A local map with hotels can be found here. The Lod Cook Hotel is located on the LSU campus. A block of rooms has been reserved at


La Quinta Inn Baton Rouge University Area
2333 S Acadian Thruway
Baton Rouge, LA 70808
(800) 531-5900 or (225) 924-9600
Special Rate: $85.00 (must request LSU CCT block)
Block deadline:  February 18, 2008

Meals
We are planning a banquet at Boutin's Cajun Restaurant on Friday evening. The cost is $30 per person. There will be several choices for dinner and will be made on site.
Other
Note that a Workshop on Automating the Development of Scientific Computing Software will be held at LSU, March 5-7. Details can be found here .