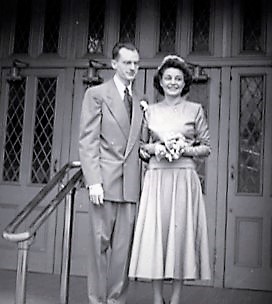 The creation of the Peg and Tom Madden Mathematics Research Scholarship was made possible by a gift from Dr. James Madden, Patricia Hewlett Bodin Distinguished Professor of Mathematics. This new scholarship is intended to encourage and support LSU Mathematics Undergraduates who are actively engaged in research experiences in the department.
Inspired by the dedication of his colleagues, with this award Dr. Madden wishes to foster positive experiences in mathematics research. He credits the individual attention that LSU Mathematics faculty have provided to students with the enhancement of the undergraduate experience. Dr. Madden recognized how these relationships have benefitted students during their time with LSU. He says, "…there is something very valuable in the opportunity work one-on-one with faculty who have devoted their lives to mathematics. Experiencing their excitement can be very influential in the life of a young person who is making choices about a future career.".
Dr. Madden named this award in honor of his parents, Drs. Margaret R. and Thomas J. Madden, known to their friends as Peg and Tom. Open and adventuresome discussions were the order of business around the dinner table in the Madden home. Margaret Madden received her M.D. from New York University, and as an intern served on the team that responded to the tragic Hartford Circus Fire of 1944. Margaret passed away at the age of 90 in 2007. Thomas Madden received his M.D. from the University of Chicago. After an internship at Cook County Hospital, he joined the Army and served at the atom bomb tests at Bikini Atoll in 1946. He spent his career as a pathologist at New Britain General Hospital from 1951 until he retired in 1985. He passed away just before his 97 birthday in April 2017. Peg and Tom had two sons in addition to James. John is a pathologist at Duke Medical Center, and Tom is an expert in Chinese language instruction working for the U.S. Foreign Service.
Dr. James Madden came to the LSU Department of Mathematics from Indiana University South Bend in 1990. In addition to his math department job, he is an Associate Director of the LSU Gordon A. Cain Center and Director of Special Programs in the College of Science. In the latter capacity, he oversees the LSU GeauxTeach program. Dr. Madden's research interests include real algebraic geometry and mathematics education.
Scholarship Recipients:
2023 Joel Keller, Thao Nguyen, and Lillian Powell
2022 Ana Crifasi, Lillian Powell, and Zeke Abshire
2021 Andrea Bourque and Joel Keller and Tracy Xinyue Yu
2020 Rohin Gilman and Benjamin Thomas
(Contact: Prof. Shea Vela-Vick, LSU Department of Mathematics)