GEAUX Program: Welcome to the LSU Department of Mathematics!
The current graduate students welcome the incoming graduate class with the GEAUX program (Graduate Education and Acclimation to the University eXperience), pronounced "go", as in "Geaux Tigers", a common cheer at LSU sporting events. In the two weeks preceding classes, new students will have the opportunity to:
Meet their incoming classmates
Meet older graduate students and faculty members
Warm up to the rigor of graduate level mathematics
Prepare for teaching
Learn about the university
Explore Baton Rouge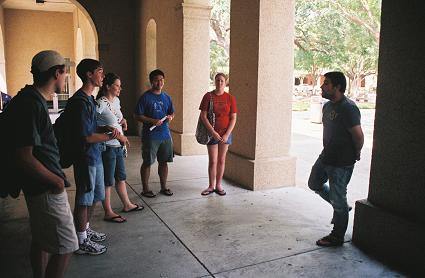 The get GEAUX-ing page is full of information and websites to get apartment advice, get wired, get around, get to know campus, get to know Baton Rouge, get used to life in the United States, or get a bite to eat.
Connect with other first year students, find a roommate if you're looking for one, and see students from the rest of the department on the Facebook group GEAUX Math at LSU! If you have any questions at all, please don't hesitate to contact us at geaux@math.lsu.edu.
Welcome to LSU! We're excited to see you this Fall!
--The GEAUX Team
Samuel Wilson (chair)
John Lien (co-chair)
Sarah Allred
Ryan Leigon
Kent Vashaw
Alisina Azhang

Shashika Mestrige

Jake Murphy

Vishwa Dewage

Dylan Douthitt