Information for Undergraduate and High School Students
https://www.frcla-ms.org/
---
Fun Links
---
Free Math Movies
Sign up with the East Baton Rouge Parish Library for free to start watching movies.
Some included math related movies:
The Man Who Knew Infinity
A Beautiful Mind
Hidden Figures
Moneyball
Stand and Deliver
The Martian
---
LSU Actuarial Student Association
Headed by President Jayden Turner and VP Bren Hutchinson, the LSU Actuarial Student Association works to assist students in their studies of Actuarial Science. They also strive to facilitate the communication between students and employers. Their website can be found here. For more information on Actuarial jobs and exams, check out the link below.
Actuarial Science Concentration Information, Actuarial Careers, Actuarial Exams, Actuarial Jobs and Actuarial Tutorials
LSU MATH CLUB
Second meeting, Tuesday, Sept. 25th, 2023. October, 2023. Lockett Hall, 3rd Floor,Keisler Lounge. Time: 5PM. The new officers are:Lillian Powell, LSU Math Major,President, Vice President: Taylor Franks, Secretary: Sunella Ramnath,Treasurer: Rita Ntipouna, Social Media Officer: Shay Walker. Math Club Website, Instagram: @lsumathclub
Celebrate Pi Day, March 14, 2023.
---
Activities for High School Students in Math
LSU Gordon A. Cain Center, Summer Math Camp Program: LSU Math Circle, High School Math Research Program. Dates: Session 1: Monday, June 12 - Saturday July 1, 2023, Session 2: Monday, July 17th - Saturday, August 5, 2023. This summer camp is open to 8th graders and high school students who love math and want to learn more about math in every day life. The cost is: $1,200. per session.

The LSU Math Circle, this summer camp gives you a unique introduction to the complex world of college mathematics and its applications. You will be exposed to a wide variety of topics in the fields of Combinatorics, Number Theory, and more and will gain a solid foundation in university-level mathematics. In addition to rigorous coursework, you will engage in hands-on activities centered around logic and math and see the many applications of mathematics in other disciplines. The camp is completely on-line and students will be in small groups - each led by a mentor to research in the Beauty of Mathematics. The groups will meet virtually for 2-3 hours each weekday, the program culminates in poster presentations. Upon completion of the program each student will receive: a certificate of completion, the original source and PDF files of their final presentation, and a video of the final presentation. Students will also have the opportunity to continue and expand their research. To learn more: email: imichael@lsu.edu, or visit the high school math research program webpage.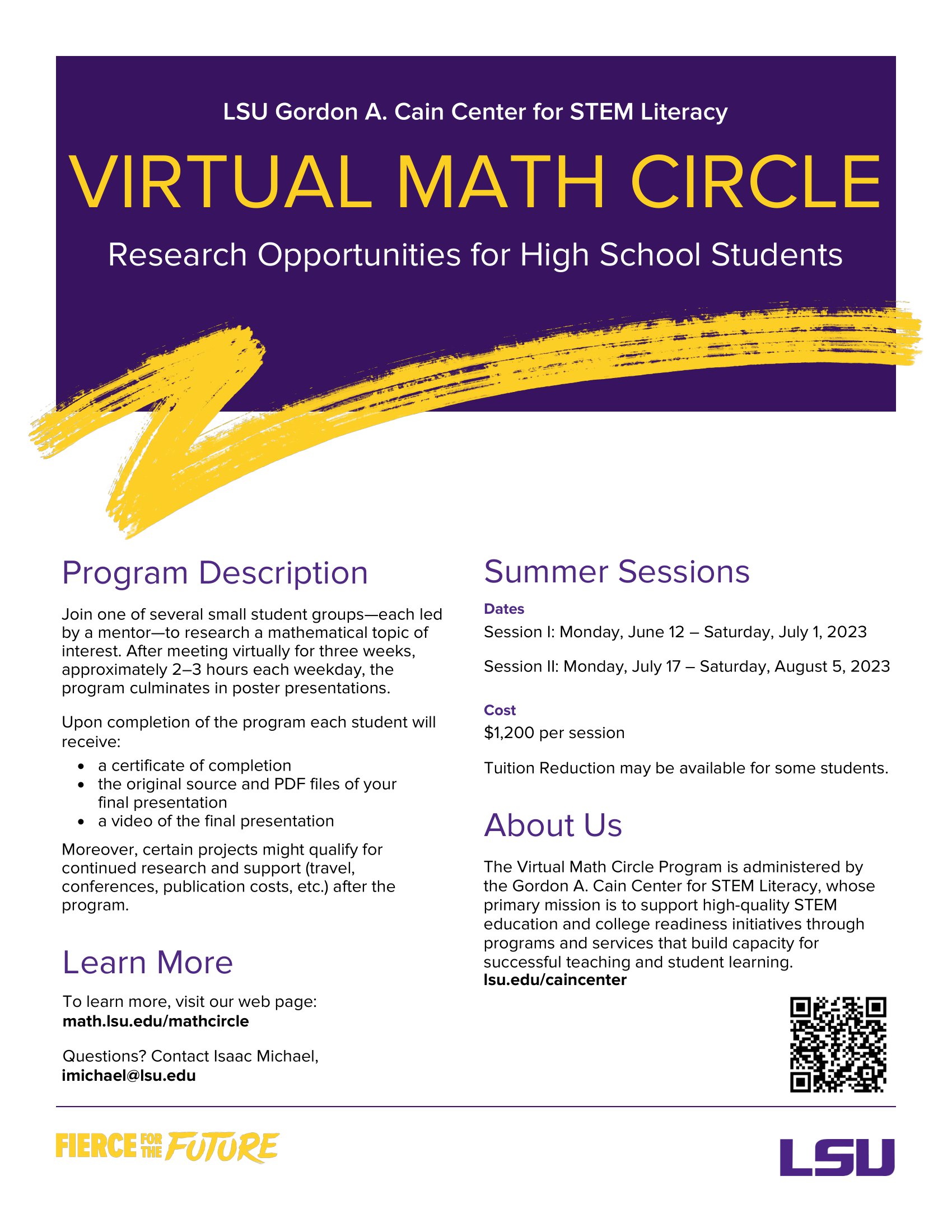 Be sure to check out our summer camps:

Louisiana Mu Alpha Theta State Convention, March 30th-April 2,2023. Crowne Plaza Hotel, Baton rouge, La.

Louisiana High School Robotics Competition, March 30 - April, 1, 2023. Bayou Regional Pontchartrain Center, Kenner, Louisiana.

Louisiana High School State Rally, LSU Gordon A. Cain Center, Friday, March 4, 2023. Dr. Harald Leder, Executive Director. Email: . Below is the link to the high schools and the student winners in the categories of Algebra, Advanced Math, Geometry, Calculus, Advanced Math Functions and Statistics, Computer Science, Physics, English, History. Congratulations to the High School Teachers and their Students. High School State Rally Results

This web page addresses the most common questions asked by undergraduate and high school students, parents, and teachers and gives links to webpages for further information.

The winners for 2018 are McKinley High, Baton Rouge Magnet High School, Louisiana School for Math and Science, Abbeville High School, Dunham School, Barbe High School, Baton Rouge FLAIM, Patrick F. Taylor, Destrehan High School, Ponchatoula High School, LSU Lab School, MSA-East Academy, Collierville High School, See all LSU Math Contest 2018 Results.
---
Studying mathematics at LSU
Advice to undergraduate mathematics students
The general undergraduate mathematics webpage can be linked to from the main mathematics webpage.

If you have any questions about the undergraduate program in mathematics at LSU, you may talk to Mrs. Soula O'Bannon in the mathematics department (+1 225 578 1617).

If you are a math major, you should find a faculty advisor. This should be someone who cares about your career and is willing to take the time to help you understand your options for a career after graduation and to plan your courses to achieve your goals. You may approach one of your professors, or Mrs. O'Bannon can help you find an advisor.

Get involved in an undergraduate research project with a professor sooner than later.
---
LSU Center for Academic Success
The LSU Center for Academic Success provides a multitude of services for students to aid them in their studies. Included among these are Tutoring, Supplemental Instruction, Academic Coaching, and more. In addition to these services, the Center for Academic Success gives students access to a plethora of tools such as a GPA Calculator, a website for Tips and Tools, and a Learning Journey course for students to better prepare themselves for coursework. In order to further foster the learning of students, the Center for Academic Success hosts special events each semester. These events offer students an in depth look at every aspect of academic life, ensuring every student has access to the resources they need in order to be successful at LSU.
---
Undergraduate research in mathematics
Many professors in the Mathematics Department mentor undergraduate students in projects that help them learn what doing research is like. Often, a project culminates in a poster presentation by the student at one of LSU's research presentation forums. Students who are engaged in research develop mathematical maturity that cannot be learned in a classroom setting, and they gain perspective on the career possibilities in mathematics. Examples of student projects can be found on Prof Shipman's undergraduate research page and on Prof Malisoff's page.

If you have some form of funding, such as Chancellor's Aid, to work on campus, a research project counts as employment.
Opportunities to engage in research
Prof. Stephen Shipman advises undergraduate students on undergraduate research opportunities. Contact him to talk about how to become engaged in a research project. Students may also find mentors by word of mouth or by getting to know a professor. You may also talk to Soula O'Bannon in the math office for suggestions and advice.

Math Consultation Clinic Teams of undergraduate students work under the mentorship of graduate students and a faculty member on problems coming from other academic units or from other research institutions or industry. It runs during the summers and during the year, when it is offered as the Capstone Course Math 4020.

Research Experience for Undergraduates Summer Programs are offered universities and related institutions throughout the country. There are about 100 of them each summer, and getting into the best of them is competitive and prestigious. Participating in one is beneficial to your growth as a mathematician and to your future career prospects.
Opportunities to present your research
Summer Undergraduate Research Forum (SURF). This is a large lively and well attended forum at which students present posters of research that they undertook during the summer.

STEM LSU Undergraduate Research Conference. This is the forum that takes place in the fall semester, at which students present research in science, technology, engineering, and mathematics.

LSU Discover Day. is the university-wide forum that takes place in the spring semester, at which students present research in all areas of investigation. There is research funding available.

LA-TX Undergraduate Mathematics Conference. This is a joint meeting between University of Houston, Louisiana State, and Texas A&M, in which undergraduate math students present their projects in oral and poster form.

Travel stipends for undergraduates are available to support outstanding students' participation at conferences.
CxC Courses
The Communication Across the Curriculum program at LSU CxC offers courses that are certified "communication intensive". You may see an example of a CxC math course here.

The College of Science offers guidance and technical support in Studio 151.

Our present CI certified courses are Math 2030 and Math 2060 and the Capstone Course math 4020, Courses are certified for instructors who have developed a course that has been approved as CI by the CxC program.
Mathematics education programs
The teacher certification program for undergraduate mathematics majors is called Geaux Teach.

The website of the Cain Center for Scientific, Technological, Engineering and Mathematical Literacy will inform you about the many other educational programs in mathematics that LSU offers.
Activities in mathematics
Check out the plenitude of activities such as the Math Club, Actuarial Student Association, Putnam competition, and "Greek" organizations, that go on in the LSU math department.
Awards and scholarships
There is a variety of Awards and Scholarships available to mathematics majors. Be aware of them so that you do not miss out on an opportunity.
Independent and distance learning
LSU Distant Learning offers courses, both for college credit and non-college credit. These courses give the student flexibility in time to complete the course. Refer to this LSU Distant Learning for more information.

Check with the University or College that you are attending to make sure it will accept the course and check if it will accept the course done on-line. Many colleges (College of Business, College of Engineering) want students to sit in a real class.
---
Academic support
The Center for Academic Success offers strategies for test taking, time management, good note taking, and more.

There are a variety of tutoring services available. Mrs. O'Bannon has a list of peer students who tutor for pay, and you can check the Center for Academic Success tutoring page for free tutoring in entry-level courses.

Student Support Services is a federally funded Trio grant program that primarily serves students who are first generation AND low-income. We also serve students who have disabilities.

We have partnered with the Olinde Career Center, who is sponsoring five $300 book scholarships for our students. Students apply by completing an application, a needs assessment, a short autobiography, and submitting tax forms from the last year where the student is listed as a dependent in the household. We only accept freshmen during the summer before their incoming year, as we require them to take the UC 0006 study skills/life skills course that we teach. Upperclassmen can apply any time with Craig Winchell in 136 Allen Hall.
---
Transferring from other institutions to LSU
For information on how to transfer from another school, contact the Office of Admissions to determine your eligibility for admission. Regulations differ depending on whether you are an entering freshman, a transfer student, a re-entry, or a re-entry returning after leaving LSU for another institution. Coursework taken at another institution must be reviewed for acceptance for credit at LSU.
The Bridges to the Baccalaureate program concerning BRCC courses.
---
Information for high school students, parents, teachers, and counselors
Activities for high school students in math
In the annual summer high school Math Circle people have fun with math.
LSU hosts an annual High School Mathematics Contest.
LaΜΑΘ is the Louisiana chapter of the National Mu Alpha Theta Mathematics Honor Society. There is active participation at high schools such as Benjamin Franklin High School in New Orleans, Catholic High School in Baton Rouge, Destrehan High School in Destrehan, Academy of our Lady in New Orleans, Bolton High School in Alexandria, Brother Martin High School in New Orleans, Archbishop Rummel High School in New Orleans, Baton Rouge Magnet High School in Baton Rouge, Ursuline Academy in New Orleans, Archbishop Chapelle High School in Metairie, St. Mary's Dominican High School in New Orleans, St. Paul's High School in Covington, Mandeville High School in Mandeville, McKinley High School in Baton Rouge, Fontainebleau High School in Mandeville, Vestavia Hills High School in Vestavia Hills, Alabama, Caddo Parish Magnet High School in Shreveport, Captain Shreve High School in Shreveport, Archbishop Shaw High School in Marrero, Bonnabel Magnet Academy High School in Kenner, Pope John Paul II High School in Slidell, LSU University Laboratory School in Baton Rouge, Oakdale High School in Oakdale, Westgate High School New Iberia, Airline High School in Bossier City, Archbishop Hannan High School in Covington, De La Salle High School in New Orleans, The Dunham School in Baton Rouge, Liberty Magnet High School in Baton Rouge, Zachary High School in Zachary, Jesuit High School in New Orleans, Lakeshore High School in Mandeville, St. Amant High School in St. Amant, Barbe High School in Lake Charles, Ponchatoula High School in Ponchatoula, Abbeville High School in Abbeville, Pascagoula High School in Pascagoula, Mississippi, Woodlawn High School in Baton Rouge, Haynes Academy for Advanced Studies in Metairie, Covington High School in Covington, Collierville High School in Collierville, Tennessee.
LSU has done activities with the Math Club of Kenilworth Science & Technology Middle School. Friendship Capitol High School Baton Rouge.
Testing into math courses
Our placement credit page will answer your questions about testing into courses through the ACT, SAT, AP, CLEP, and IB exams and the ALEKS test for testing into calculus.
Getting ready for college
The LSU College Readiness and Dual Enrollment Program was created to help prepare students for success in college.